May 2022
Writersperhour Review: Get The Most Genuine Opinion
Starting from 11$ per page
Affordable Prices
Easy Website Navigation
Minimum Deadline - 48 hours
writersperhour.com got 1.8/5 based on 42 customer reviews
Wondering how the ratings are formed?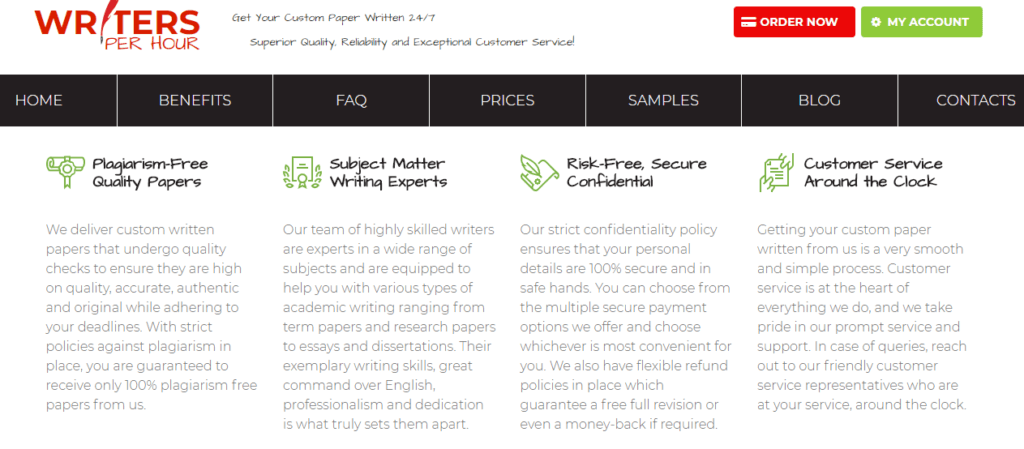 It is no longer news that students can't deal with lots of assignments and need side assistance. The most convenient and fast option is to turn to a writing company. However, there are so many of them on the market that you might find it difficult to choose the right one. That is what we are here for!
In this review, we are going to discuss Writers Per Hour, a US-based company that was launched in 2015. Unfortunately, we couldn't find other details about their registration and the company standing behind the website. All that is left is to hope that the information they provide is genuine.
The website looks attractive, and we want to check whether the rest of the services are good enough. Want to find out how the experiment went? Then read this Writersperhour review with full attention.
Prices
Let us start with a question that worries all students: prices. Writersperhour is quite affordable for those who need to write a regular essay with a 30-day deadline. One page of such an assignment will cost you $11.99. But the fees significantly increase when you are choosing a more advanced academic level and deadline.
For example, an International Baccalaureate (IB) paper completed within 5 hours will cost you $49.99 for one page. Sounds impressive, right? And don't forget that there is a big number of extra fees and services if you want to choose a particular writer, add requirements in progress, or simply get a plagiarism report.
Unfortunately, Writersperhour doesn't provide any discount codes. They claim to have a loyalty system but don't provide any details. We tried to contact customer support to get extra details but didn't receive a reply.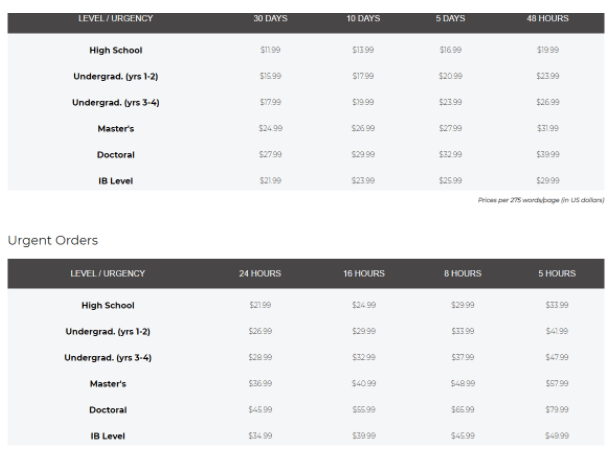 Service Quality
The list of assignments they are able to complete is nothing but ordinary: reviews, articles, reports, case studies, essays, and so on. More complex tasks include dissertations and IB assignments. Plus, it is possible to request editing and proofreading if you already have a paper of your own. However, we found out that they don't have dedicated editors and proofreaders, and this service is provided by the writers.
The quality of Writersperhour is rather doubtful. The website's content has numerous mistakes, support agents don't know academic English, and completed assignments are far from being perfect. It seems that the only goal of this service is to earn money and not to provide solid services to the audience.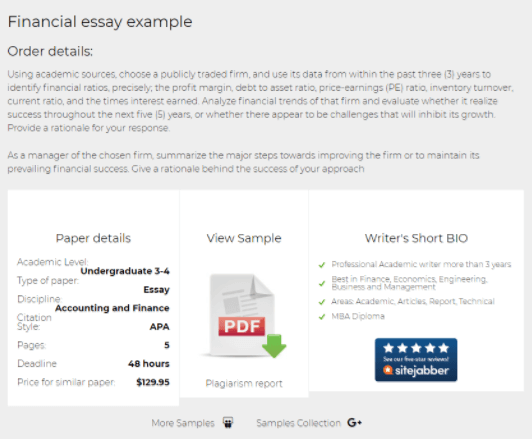 Payment Options Available
We couldn't find any payment methods apart from Paypal. It is rather disappointing because we are living in the era of online purchases and a broad list of options greatly contributes to convenience, speed, and security. Yes, PayPal is a reliable payment option, but many customers can't or don't want to use it.
Guarantees and Policies
One of the best ways to check whether Writersperhour scam customers or not, is to get familiar with their guarantees. Here's what they offer:
Revision guarantee
Refund guarantee
If the assignment doesn't meet your guidelines, you can try and ask for free revisions. Even though you have 20 days post-delivery to request a revision, this request is rarely fulfilled. The company will try and find excuses to delay the revisions hoping that you will forget about them.
The refund guarantee is also rather weak, and after reading comments from other customers, we came to the conclusion that it's almost impossible to return the money. Plus, there are no details concerning their security and encryption measures, so in case your teacher finds out that you were cooperating with Writersperhour, they won't do anything.
How to Place an Order?
To order an assignment at Writers per hour, you should fill a standard form on the website. Indicate your academic level (high school, undergraduate, master's, Ph.D., or IB). Then choose the assignment and topic. Additional questions concern the required formatting style, spacing, and your personal expectations.
The deadlines vary from 5 hours to 30+ days. You will also need to pay for the order in advance, which is not very secure.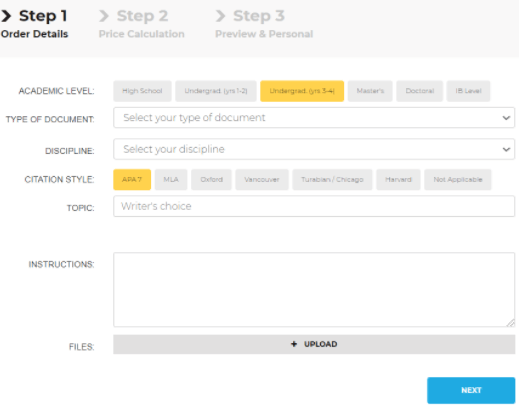 Reputation on the Internet
Online reputation is surely one of the most important indicators of whether a company can be trusted. Unfortunately, Writersperhour has failed the test. The number of negative comments prevails, and students have problems with the customer support and lack of payment options and dishonest policies, and awful content.
We have found numerous comments that delivered papers were plagiarized, based on outdated sources, and had poor language. It is obvious that Writersperhour doesn't have native-speaking authors.

Pros and Cons
To sum everything up, let's discuss the advantages and disadvantages of this writing service. Its pros include:
Convenient order form
Affordable prices
Cons:
Low-quality assignments
Poor guarantees
Bad reputation
Our Verdict
We have carefully analyzed Writers per Hour and are ready to share our opinion with you. It has been on the market since 2015, which is not so much for a writing company. While the website looks cute and convenient, the content itself is far from being perfect. The services and papers they provide are also poor, and many students complain that it's impossible to get revisions and refunds.
We don't recommend this service and offer you to turn to a more reliable writing company if you want to get a good result.
Frequently Asked Questions
What services do they provide?
The list of services provided by Writersperhour is rather limited. Here you will find writing from scratch of the basic assignments (for example, essays and research papers), editing, proofreading, and formatting. Unfortunately, if you have a more complex assignment or something specific, it will be difficult for a company to find an experienced writer with the necessary skills.
What is their company responsible for?
Theoretically, they are responsible for satisfying your needs and creating an academic assignment based on your requirements. However, after reading the review above, you can see that Writers Per Hour has many flaws and are not ready to bear responsibility for most of the services they claim to provide.
What if my paper is complex?
The company says that they have writers with any background and experience, so it doesn't matter whether you request a simple essay or complex research. Unfortunately, their team is not so broad, and it may happen that at the moment, the writer with a necessary degree is busy, and you'll have to be content with what you have.
Is there a confidentiality guarantee?
Yes, the company provides a Privacy Policy, but you won't find anything new and useful there. Just general claims and information that is written by hundreds of other academic writing services on the Internet.
Fortunately, we haven't found any claims that the company trades users' identities or has regular information leaks.
Are their papers plagiarism-free?
No. We have found lots of comments from customers who claim that their Writersperhour assignments were plagiarized. Even though the company says that the papers are original, after checking drafts on reliable software, it turns out that there are many copied parts.
Can I establish direct communication with the writer?
In theory, customers have an opportunity to communicate with the assigned writer. But usually, authors don't answer questions, and if you want to add comments or request a change, you'll still need to contact the customer agent first. We had a negative experience with the assigned writer because he was rude and unprofessional and was rather annoyed when we asked for a change.
Are their payment methods secure?
The only available payment option is PayPal. It is rather limiting considering that PayPal is prohibited in many countries. However, it is very secure, and in many cases, it is possible to contact the company directly and ask them to help with returning the money (if this writing website scammed you).
What if I've made a mistake when placing an order?
Everything depends on how much time has passed since then. If only a few minutes, you can contact the support team and ask them to change the details. But if the writer has already started writing, you might have to pay an extra fee. That is why be attentive when placing an order and indicating the correct details.