May 2022
Wiseessays Review And General Information
Starting from 12.7$ per page
Simple ordering
Wide variety of paper types
Minimum Deadline - 12 hours
wiseessays.com got 3/5 based on 32 customer reviews
Wondering how the ratings are formed?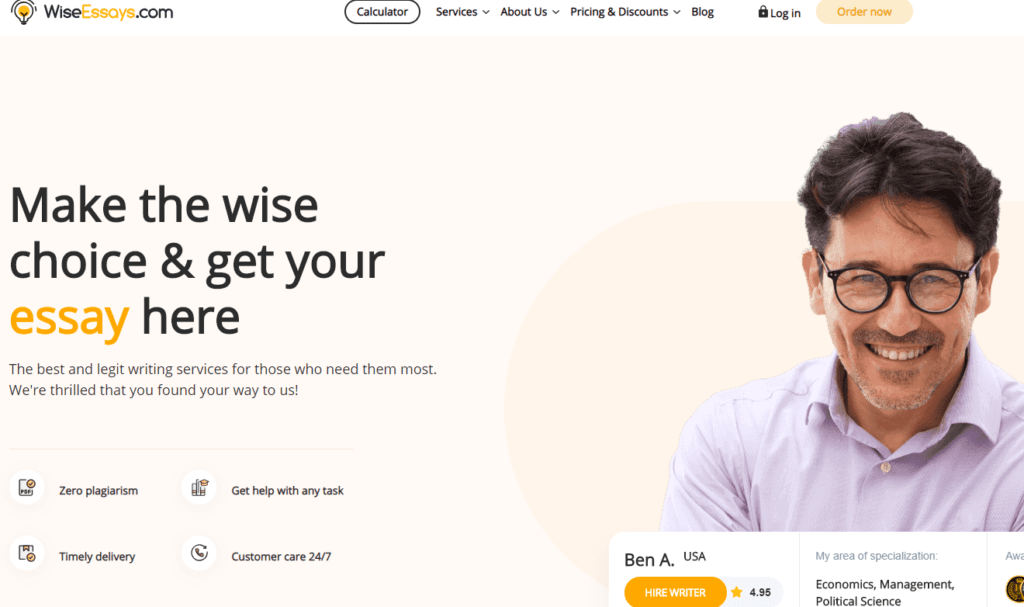 WiseEssays is a writing company that has been helping students since 2011. Or at least that's what they claim because we couldn't find any information on the time they were established. The service is owned by Steadi Ltd., a Bulgarian company, and has nothing to do with the US, UK, or Canadian legislation. This means that the standards of academic services, as well as provided guarantees and protection of customers, can't be checked.
The website is quite outdated, and while the prices are average, there are many extra fees that are waiting for students if they want to improve the quality of papers or add some instructions. Want to learn more about Wise Essays? Then go on reading our review.
Pricing Policy
The prices at WiseEssays are rather average, which is a plus. At the time of writing, they have a discount, and the prices start at $12.91 for a regular high school assignment without hot deadlines. The price calculator considers your academic level, deadline, number of pages, and spacing. Group projects, presentations, math and chemistry problems, and other more specific assignments usually cost $16.95 per page.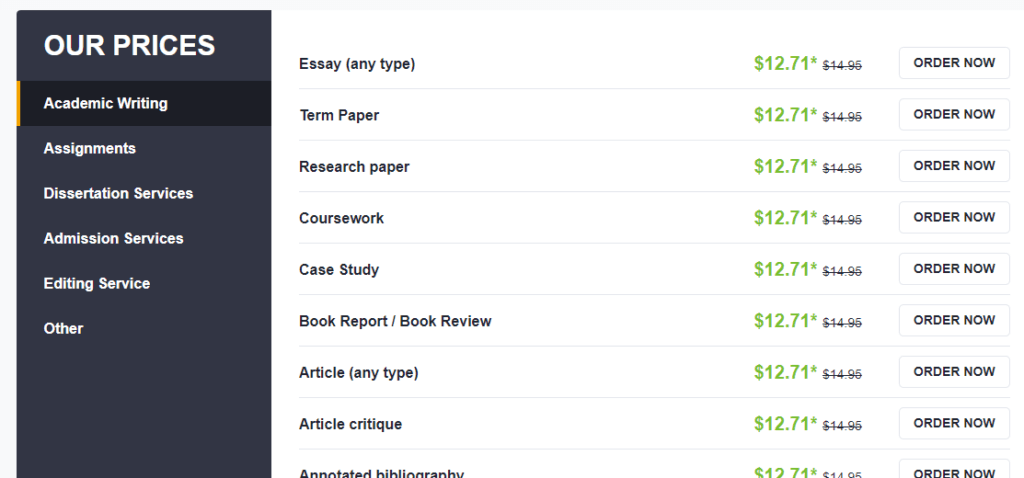 There are also extra fees involved if you want to get a better quality of content. A preferred writer costs + 20% to the initial price. Add $6 to every page when choosing one of the top 10 writers. Plus, you will have to pay for a plagiarism report and lifetime storage of files (in case your laptop is broken/stolen or you have deleted the file by accident).
Quality of Delivered Orders
No matter how many extra services and features you add to the assignment, the quality of content will remain rather poor. To make this review informative, we have placed an order at Wiseessays. It was a regular essay that didn't require much knowledge and a Ph.D. degree.
First of all, we couldn't get any information on the writer, even though the company says that they provide such info by request. Plus, our essay has too many mistakes that a native speaker would never make. When we asked for a revision, the company started making excuses but eventually approved the request. Unfortunately, the quality of our essay didn't become better.
Then we asked for a refund, but they blocked us and never answered back. And this story is one of the many similar ones.
Make sure to check our best essay writing service reviews for more writing services and compare them to find the best one.
Payment Methods
If you decide to place an order at WiseEssays, you'll have access to a decent number of payment methods. For example, PayPal, Discover, Visa, Mastercard, Maestro, Delta, American Express, and Wire Transfer.
Provided Guarantees
You can find information about Wiseessays' guarantees at the bottom of the homepage. However, be ready to spend a few hours trying to decipher the terms and conditions because the company did its best to confuse users.
Here are the guarantees that they have:
Plagiarism-free guarantee;
Revision Policy;
Refund Policy.
The company promises that the complete work will be 90%+ original, which is proved by a plagiarism report. However, this report is completed only on their own software (not on an approved one) and costs extra money.
When the writer has completed your order, you'll have three days to request a revision. If not, this guarantee will vanish. In theory, refunds are given if the work hasn't been completed or if the deadline was missed. Unfortunately, these are only words because our own experience and experience of many other customers shows that Wise Essays are not willing to return the money. They either block you or say that you have broken the terms of the Refund Policy and can't get a refund.
How to Order an Essay
It is quite easy to make an order at Wise Essays, and the company did a good job of creating a simple and understandable form. It consists of a single page where you choose the necessary elements, indicate the delivery date, and can apply a discount code. There is also a window for uploading extra materials or leaving comments.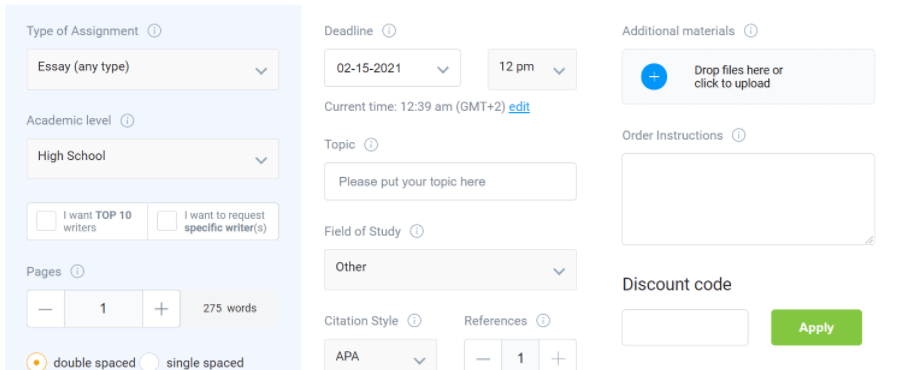 Reputation on the Internet
One of the best ways to learn more about a company is to read what other customers say about it. We were hoping that our own poor experience with Wise Essay was only an accident. But after reading the comments online, it turned out that many users have the same problems.

Even though WiseEssays tries to buy fake reviews, there are many independent websites where you can learn the truth. Students say that the customer support is unfriendly, the papers are plagiarized, and have multiple mistakes. And that it's impossible to get a revision or refund.
Pros and Cons
The advantages of Wiseessays are:
Simple order form;
Big number of paper types.
Their disadvantages include:
Hidden fees;
Plagiarism issues;
Late submissions.
Closing Thoughts
Nowadays, it is becoming more and more difficult to find a decent writing company. Unfortunately, most of them want to take your money without doing much. Yes, Wise Essays is not a scam, and you will eventually get a paper, but its quality and treatment will be rather low.
We have made an order at WiseEssays, studied hundreds of reviews, and came to a conclusion that it is a rather poor company to deal with. They have lots of flaws, don't take customers seriously, and are even ready to change the guarantees and policies not to compensate for anything.
FAQ About the Company
What types of papers do they complete?
On the homepage of the company, you can find information on the types of assignments they complete. The list is rather standard, and you shouldn't expect anything new or extraordinary: essays, term papers, reviews, homework, and so on. Academic levels vary from High School to Ph.D. Unfortunately, based on the obtained information, no matter what level you choose, the paper will be written by the same mediocre author.
Is my personal information safe with Wiseessays?
There are standard Privacy Policies available on the website, and you can find all the details on a separate page. However, you won't find any specific features or software details to ensure that your data is encrypted and protected—only general terms and phrases. Read the review above for more details on their guarantees and policies.
Are their writers experienced?
The company claims that their writers are professionals, and to become a part of the Wiseessays team, candidates complete several tests and checks. They say that all writers have Masters and Ph.D. degrees and a corresponding experience. It is possible to request background information of the writer, but the author has a right to decide whether to give you the details or not.
How do they find a writer for the order?
Theoretically, the writer is chosen based on your requirements and subject. However, our experience with WiseEssays and online comments show that rather often, writers are assigned just because they are free, even if they don't know a thing about the topic.
Can I get a draft?
No, the service doesn't provide students with drafts. They say that in rare cases and upon request, the company may send you a draft; in reality, everything is different, and you will never get one no matter how much you ask them. Probably, Wiseesssays' drafts are far from being perfect.
Is it possible to communicate directly with a writer?
The company has a messaging system, so you can communicate with the support team or assigned writer when you need it. However, rather often, the author doesn't reply, and in order to get his or her attention, you'll still have to contact their managers.
Are their papers free from plagiarism?
As with any other writing service, this company claims that its papers are always original and contain no copied or similar parts. You can also order a plagiarism report for an extra fee. However, if you study online reviews, you'll see many students complaining that Wiseessays deliver plagiarized content.
Are there any extra charges?
The price you see when placing an order is usually the only sum you will have to pay. However, there are some situations when you should be ready to pay some more: for adding pages, changing instructions, or altering the deadlines and academic level. Be very attentive when placing an order because every mistake will cost you extra money.