February 2021
Justbuyessay Review: The Pluses, Concerns, And Reliability
Starting from 13$ per page
Timely delivery
Good customer support
Minimum Deadline - 3 hours
Justbuyessay.com got 3.4/5 based on 34 reviews
Wondering how the ratings are formed?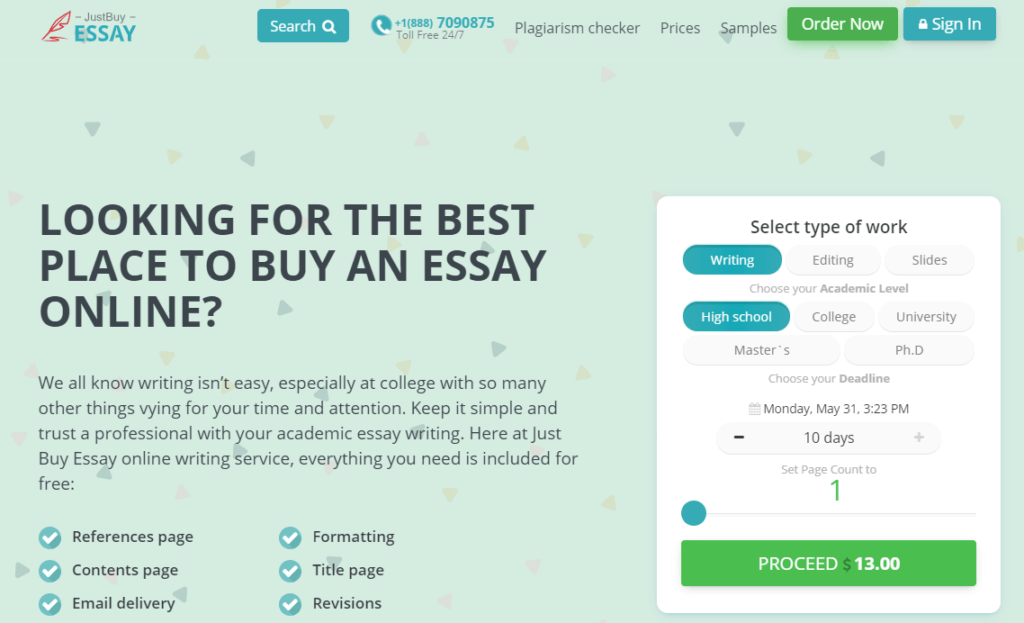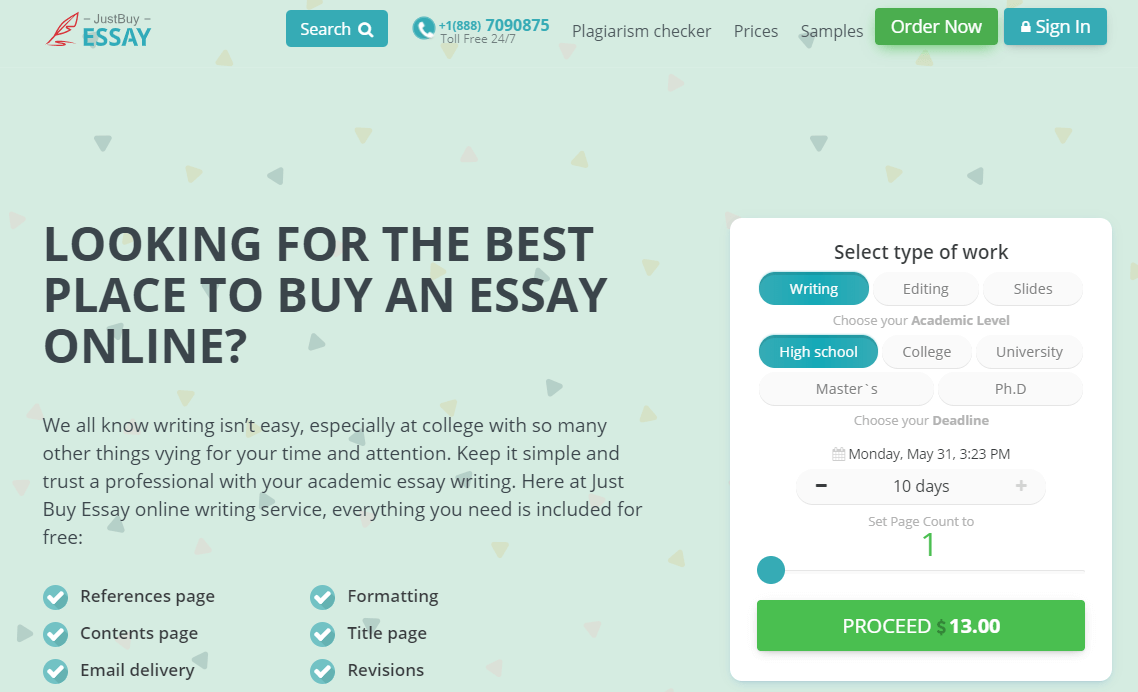 Academic assistance services bring lots of good. They are beneficial for students who are under terrible pressure during their first years in college. A rapid change of lifestyle and much more load and duties make most students ask for support with their writing assignments. But which company to entrust these tasks?
The question is essential. The right assistant will rid you of all troubles, while the wrong choice will cost you time and money loss. Let alone the possible damage to your reputation. With so many writing teams of the Web, one would not test them all. That's why our team does it for you.
Our current overview is about the JustBuyEssay company. It is a relatively young team registered in Tallinn, Estonia. They've been operating in the field of writing assistance since 2014 and claim to be experts. Is it really so? Let's check it ourselves.
Prices
How much? It is the question that worries every customer of any service. Some writing agencies charge higher – they claim that it stands for exceptional quality. Other teams build their pricing policy as a "cheap" service. JustBuyEssay.com states that its pricing is low, but they aren't.
As all services operating under the prepaid model, this team calculates the price according to several strict criteria. The factors are the deadline, the number of pages, the academic level, and the assignment type. The most essential element is the timeframe.
The minimum is 3 hours for high school, college, and university levels. The Master's and Ph.D. levels imply the minimum deadline of 12 hours. The maximum time frame is 10+ days – you can place the order in a month's advance, but you still have to pay the standard rate: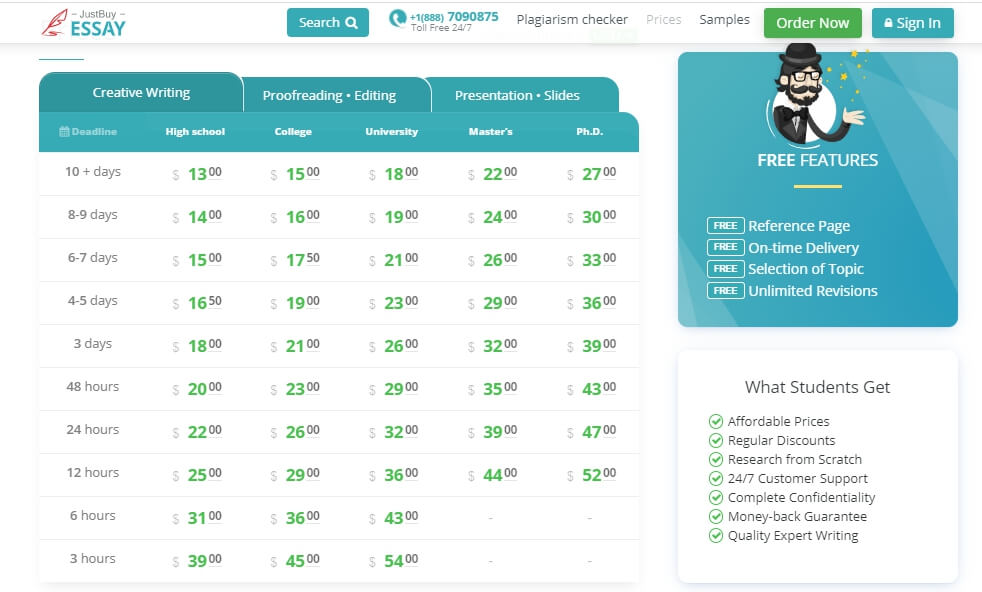 These rates apply to the basic-level service. You can hire the writer from the Premium category – it costs 30% extra. The originality report costs $19.99.
Quality
The team offers samples of their works to check and evaluate. These pieces are free to download, so we used this opportunity. The samples are of decent quality in both contents and format. We liked the accuracy of references and the clear and concise exposition style. It looked like the authors did their homework to produce papers worth praise.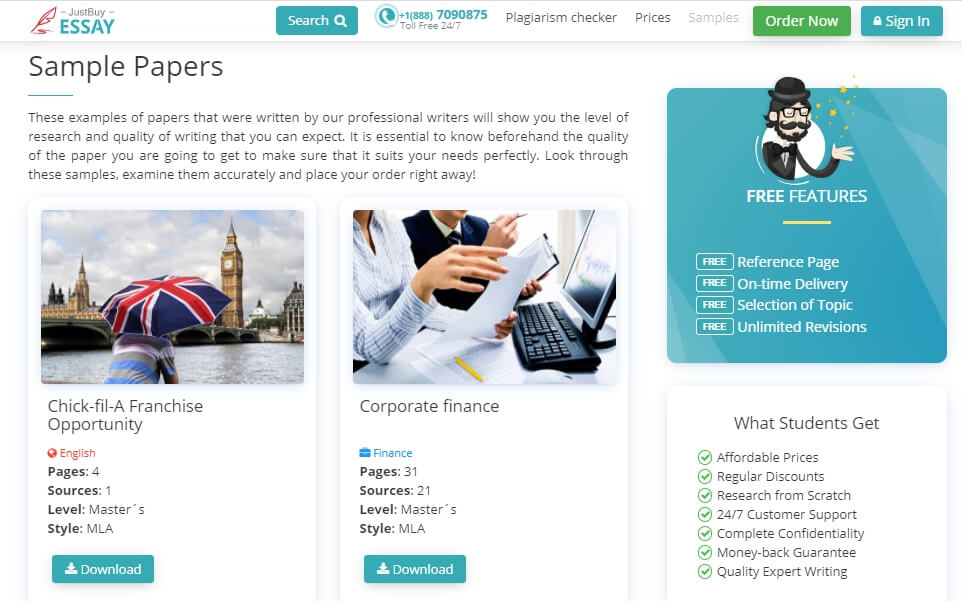 On the other hand, any company would put only the best of their products to attract the customers. It might be different when it comes to your particular case. That's why we placed a test order for an essay in English literature and prepared to evaluate it precisely.
One thing we noticed was that you could not select the ENL writer. JustBuyEssay.com claims that more than 80% of their writers are ENL, and they are the default choice when assigning orders. Unfortunately, you can't check it from your side. Perhaps, the only way is to request a Premium writer. We did not choose that option, as we wanted to test the default level of quality.
The results did not impress us. Despite the claims about the rigorous selection that all writers pass, the essay did not match high standards. It was rather bleak, and we detected many errors typical for ESL writers. We added some comments and materials later – the company allows it. Still, it looked like the writer ignored them.
From what we can judge, JustBuyEssay did not deliver the best quality. Also, it definitely needs more quality assurance for their writers' work.
Payment
The company accepts payments by all debit and credit cards issued by the leading systems. ApplePay is also an option. However, it does not support such a popular method as PayPal.
Guarantees
Money-back;
Revisions;
Originality;
Confidentiality.
How to Make an Order
There is the ordering form that you will see on many similar websites. By default, it has three steps. You can switch it to display all fields on one screen. It looks rather neat, but the overall design and pale color scheme may lead you to miss some steps. It is not the best option for those having issues with sight.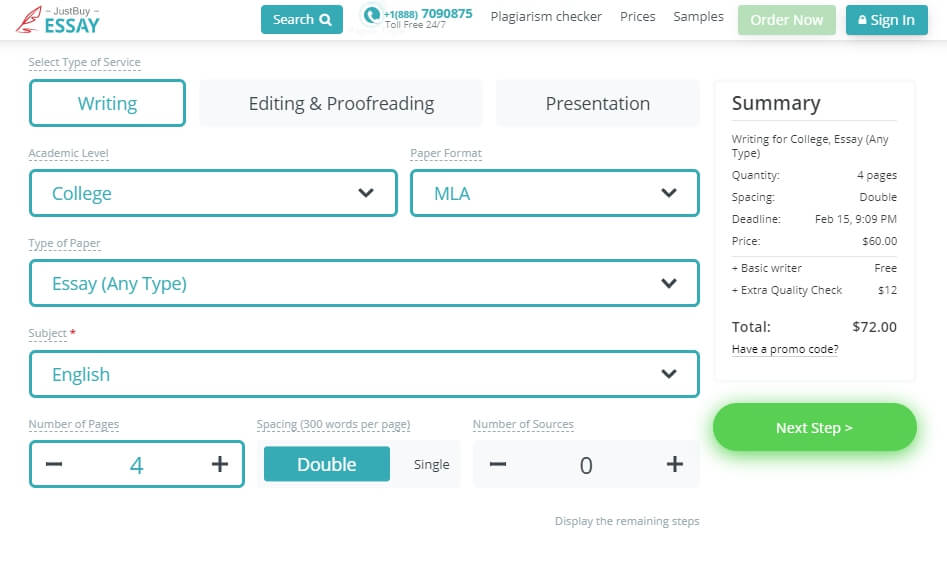 After completing the ordering form and describing your requirements and preferences, you prepay the job in full. The JustBuyEssay.com managers send the confirmation of getting the payment by email as soon as it comes through.
Online Reputation
If you want to research the company's reputation before placing the order, it won't be easy. The leading online feedback platforms have only a couple of users' reviews – two on TrustPilot and 4 on SiteJabber. We could not find any information on Reddit either.
Googling will bring you some results from other reviewing platforms. However, those resources aren't even close to that level of reliability as TrustPilot and SiteJabber have. We noted some dissatisfied clients there, though.

The lack of information may be caused by the relatively young age of this company. It hasn't won its place so far, and few customers bothered to leave reviews. But we can't rely on other clients' feedbacks – they are almost absent now.
Pros and Cons of JustBuyEssay
Pros
Fast delivery;
Quick and polite customer support;
Fair conditions;
No plagiarism.
Cons
Prices are rather high;
Inconsistent quality of writing.
Verdict
JustBuyEssay.com seems a company that tries its best to deliver appropriate service. If they stay on this road, they should succeed. However, now they still have many things to correct and improve. It is too expensive for the quality they provide. Besides, not all of their writers match the standards. If the grade for that assignment is critical, better address a different team having more experience and a more solid reputation.
FAQ – More About The Company
We've collected the most frequent issues that users of writing services face. Let us answer them here.
Is it illegal to hire the JustBuyEssay.com performers?
JustBuyEssay is legal – they write papers for your instructions and provide them as references. We never heard of any accusations of cheating or not bearing responsibilities.
Do they provide original papers?
From what we can judge, this team of JustBuyEssay.com works from scratch and does not plagiarize. You can order the plagiarism report, but they don't specify which plagiarism checker they use. It might be better to save money and then use it for Turnitin. Our test essay passed the check. We consider that plagiarism is the least concern.
Will they let me communicate with the writer directly?
Yes, JustBuyEssay provides this option. There is the "messages" section in the user's area. You can exchange personal messages with the writer. One more helpful feature is that the company allows hiring a specific writer for free. Thus, if you had a positive experience collaborating with one writer, you can add their ID into the ordering form for the next time.
How can I get my money back if the result does not satisfy me?
The Money-back policy is rather detailed and covers all the frequent cases. You may request a refund if the quality of the document you ordered does not match your requirements. For that, you need to provide a detailed description of the problems detected in the paper. If the cause is plagiarism, you must attach a Turnitin report – no other checker will suit.
One more thing to note is that you can't get a 100% refund if you requested a revision for that piece. The company considers that by requesting a revision, you approve the paper at least partially. If you prove that poor quality remains after modification, you may expect a 70% refund.
After receiving your refund claim, the company assigns it to their Quality Assurance department for investigation. If the results prove your rightness, they issue the refund within 24 hours. However, you can't demand your money back if the paper got a bad grade. The JustBuyEssay representatives stress that the documents they write aren't for submission.
Do they have discounts or special offers?
The discount policy is specific. The company states that it runs a loyalty program. However, users can see if they have bonuses in their profiles only. There isn't any information about the program conditions. Most companies offer "welcome" discounts to new users placing their first orders. Justbuyessay.com recommends contacting customer support and ask for a price reduction. Also, you should contact the support if your order seems too expensive. They promise to examine it and find some ways to reduce the price. We'd say it is not very reliable.
Can I expect the support managers to help me?
Yes, it is one of the pluses. We noted complaints about the impolite and lazy support of JustBuyEssay.com. However, it seems the company had fixed at least this drawback. The support managers were helpful. We always got a response to our requests.
You can use the live chat, send an email message, or call by a toll-free phone. Also, registered users can communicate with the support from within their accounts at JustBuyEssay.com. You should use the same "messages" option as for contact with the writers.