May 2022
EssayEdge Review: Overpriced Editing Service
Starting from 69$ per page
A big experience of work (20 years)
Possibility to choose a price depending on a service you need
Deadline in 48 hours or you can make it 24 hours
Option to choose an editor to work with
Minimum Deadline - 48 hours
EssayEdge.com got 3.8/5 based on 27 reviews.
Wondering how the ratings are formed?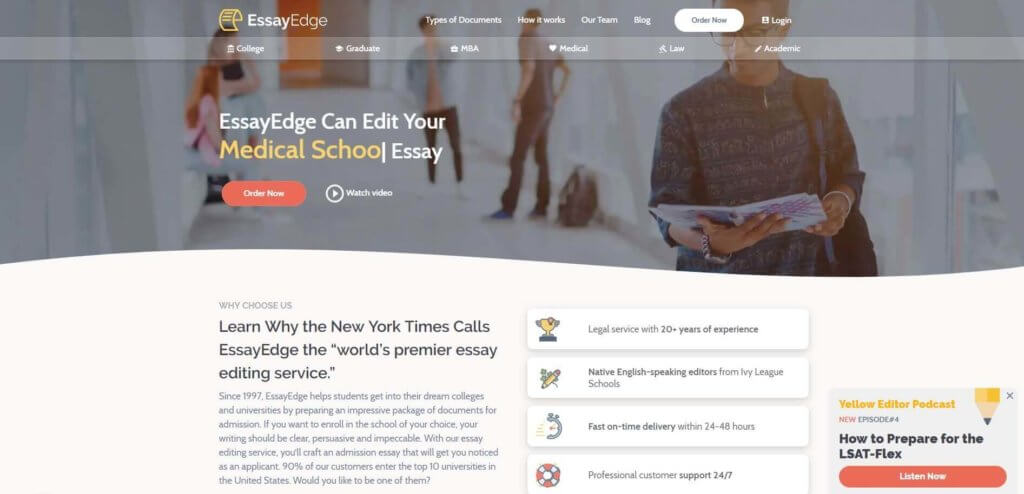 EssayEdge.com provides editing and proofreading services for college students. It's definitely not the best service. It has questionable quality, not relevant prices, poorly working for the customer support team. It has its own pros and cons, but mostly makes a bag impression of itself. Let's discuss it more detailed and see why we rated this service as a bad one.
Service review
The EssayEdge is described by itself as a professional editing service, that hires only experienced workers with proper education, and native English speakers, of course. It works for 20 years now and seems to be a popular service among students. But "popular" doesn't mean "good"—the biggest doubts we have about editing quality and relevance of the prices.
Variety of services
First of all, essayedge.com offers just editing and proofreading services. It works for academic assignments, law school writings, essays for college application and Med School, MBA application, and postgraduate papers.
Prices
The lowest price you can start with is $69, it's called "basic" proofreading. They also offer standard ad premier ones. They will cost you $149 and $379. Seems pretty impressive for editing service; prices like that make our expectation pretty high. Also, it's not a standard pricing system, when you pay for the number of pages. Here, you have to pay for every extra 600 words. They will cost you another $30. For an extra 100 words, the price is $12. It seems quite expensive for the service such as EssayEdge, and you can definitely find a better one for that money.
Ordering Process
It's pretty basic and comes in 3 steps. You have to provide your paper, so the system can count the word in it, then you choose the type of work and leave your contact information. In the end, you pay for the order and it for it to be done.
Quality of paper
To check the EssayEdge.com service, I placed an order to proofread my writing, which had around 1200 words, and I paid $129 for it. My paper was sent to me in 2 days. I didn't understand how did it take them so long for just editing several mistakes and rewriting a couple of sentences in a different order. It would be okay if I really hadn't had any mistakes in my paper, and it was perfect in the first place. But there were some typos, they haven't even noticed, so I had to edit them myself. Is essayedge.com worth it? Not really. As a conclusion: EssayEdge services are overpriced, and you can find better editors for the same money. By the way, using an essayedge promo code could make the prices more reasonable.
Guarantees
EssayEdge can't be accused of plagiarism because it doesn't provide any writings; there are only editing and proofreading abilities. But they have another questionable moment – there is no refund guarantee mentioned on their website. Nevertheless, if you are not satisfied with your paper, you can make a claim to them 90 days after you got your order. Pay attention to the part where you have to submit the use of materials. It says that essayedge.com can actually use the materials you have sent them and publish your text if they want to. It doesn't change the fact that EssayEdge is legit, but there are a few questionable moments in their policy, as you can see.
Pros and Cons
There are several positive moments about EssayEdge:
A big experience of work (20 years)
Possibility to choose a price depending on a service you need
Deadline in 48 hours or you can make it 24 hours
Option to choose an editor to work with
Nevertheless, there are a few cons:
Pretty high prices for no reason ( the lowest point is $69)
Service provides only editing and proofreading, no writing
You can only send e-mails to your editor, if you haven't got premier service
That's why we have also written a complete guide on Best Essay Writing Service Reviews 2021.
If you need more detailed instructions, then see our step by step guide on Ultius reviews.
Online Reputation
There are not so many reliable reviews on essayedge.com online. The ones I have found on Facebook are mostly good or neutral. But we can't trust every comment online, because it can be made by EssayEdge itself or competitive ether companies. I found the negative reviews too; customers not satisfied with the quality of proofreading, and a lot of them think that prices are too high.
Verdict
Essayedge.com seems to be an experienced editing service. Nevertheless, it has a questionable reputation, too high prices, and no refund guarantee. Due to my experience, I can't tell that they are hiring real professionals to edit papers. The quality of the edition was not good. Consider choosing another editing service to save your money and time.
FAQ: Answers to popular and important questions
Is EssayEdge legal?
Generally, this service is legal and have nothing to do with plagiarism, because they don't write papers, only edit them. But there are some questionable moments, such as the use of materials you have to submit. It allows essayedge.com to use and publishes every material you have uploaded. It seems suspicious.
Is the price relevant to the quality of work?
I have to say no. My editor missed some mistakes in my writing, and even if he noticed them, it still wouldn't be worth $129. It's a very high price for just editing. And they have even higher prices for premier service. At that point, EssayEdge has disappointed me, and I would rather pay this money for a professional freelance editor.
Is it possible to return the money?
You can't find any information about the refund guarantee on the website, which means that there is no such option as a refund. That's confusing, especially considering the fact that the editor's work can be of poor quality. But essayedge.com offers to contact them 90 days after receiving your work, so you can solve your problem. However, you pay beforehand, and then you receive your order in 2 days. You never know will it be good or not.
Can I be sure that all the editors are professionals?
You can choose the editor to work with, but you cannot be sure that he or she is a real experienced professional. According to reviews online, editors on essayedge.com can miss mistakes and don't do their work properly. It can be a sign that they hire students or people with pure experience. Also, they offer to proofread your paper in only 24 hours, no matter what size it is. It can't be high-quality proofreading if it is made in a rush.
Is EssayEdge safe?
There is no information about the safety of your data mentioned on their website. Confidentiality is not mentioned either. You should be careful if you are going to put your payment data there, there are some negative reports from users about the theft of their payment info. As already been written, they can adapt the material you uploaded and create derivatives from it. At least, they warn you about it. But I wouldn't like my files to be published somewhere else.
Are there any discounts on essayedge.com?
It's hard to find an EssayEdge coupon with a good discount. Nevertheless, you can have a 20% discount on your order. To get it, you have to subscribe to their newsletters, that you will get on your e-mail address. That's all you can get. With every new condition, the price goes higher, not lower.
How does customer support work?
It's hard to answer this question because it didn't even work when I needed it. Customer support doesn't work on the weekend, and it's pretty uncomfortable because you have to wait for two days to ask one question. Also, it works only until 5 PM, so you can't reach them after your working shift or long day at college. They could have hired some people to work seven days a week, and they charge enough money to provide proper customer support services.